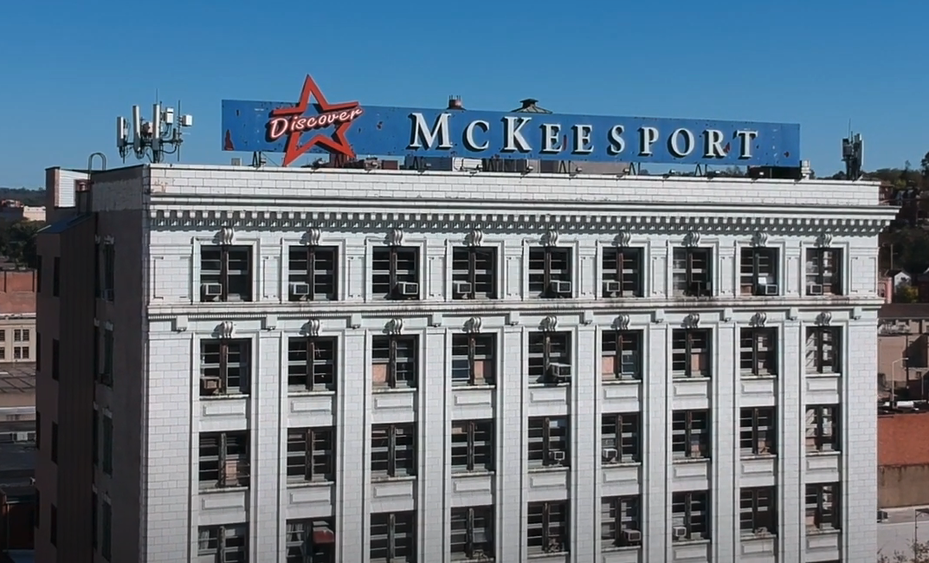 MCKEESPORT, Pa. – During the Spring 2021 semester, Curtis Neff, Austin Perkosky and Sarah Stephens moved from University Park to Greater Allegheny to complete one of their final steps before graduating: student teaching. The three students are part of a small cohort in the Robert Noyce Scholarship Program and are fulfilling their student teaching semester at the McKeesport Area School District. During their assignment, the three friends are staying in Greater Allegheny's McKeesport Hall (residence hall).
According to Victoria Garwood, director for strategic planning and communications and the college representative for education on the Greater Allegheny campus, student-teachers have lived in McKeesport Hall in the past, but it has been several years since the campus served as the regional home for those completing their degree requirements. "We are so happy to again have the student-teachers living on our campus," said Garwood.
Neff, Perkosky and Stephens were first welcomed to campus by the Student Affairs and housing and food services staff members.
"It's different being on a smaller campus, I felt so welcomed," said Stephens. "When I moved in, one of the RAs [Resident Assistants] welcomed me by name; and then when I went to the dining hall, they had a specialty menu prepared for me."
Neff, Perkosky and Stephens are all secondary education majors with a concentration in mathematics. Neff and Stephens are teaching in Founders' Hall Middle School where they both lead one section of Algebra 1, and four sections of Math 8. Perkosky is teaching at the high school where he leads accelerated geometry and precalculus.
With the on-going pandemic, educational delivery models have undergone changes. The McKeesport Area School District has offered in person or online learning options for its students and their families. Meeting the instructional needs of both groups can be challenging for teachers.
To ensure each group of learners could work with teachers, the school district shortened the classroom periods.  They also placed fewer students in the classroom to keep students safe and socially distanced.  This approach gives Neff, Perkosky, and Stephens the opportunity to engage in new teaching strategies.
"There are less students in classrooms," said Stephens. "Typically, the class sizes would probably be around 25 students, but we only currently have around 16 [students] per room and our classes are in half-hour blocks."
Stephens continued, "We have in-person school from 8 a.m. to 12:50 p.m. and then switch to the cyber program. They [McKeesport Area School District] want to make sure that teachers have time to dedicate to the cyber kids during their eight-hour workday."
Neff added, "One of the things that has changed is instead of the students moving to different classrooms, the teachers are switching classrooms. It creates some difficulties for us being in different rooms and setting up the technology for what we're doing for the day."
Perkosky's experiences in the high school have similarities to his peers. "It's difficult getting through the curriculum in order to prepare students for the next level of math," said Perkosky. "It is really about deciding what is essential for students to understand to reach their fullest potential."
Supporting others is a passion for Neff, Perkosky and Stephens, and what lead them to Penn State to pursue their degrees in education. Through their own educational experiences, each received support from teachers, and in turn, learned to help others.  For Neff, he was inspired by his teachers and enjoyed being able to help friends in their math classes.
"I really started to enjoy helping other students and my friends with math, and now, I really enjoy building connections with students," said Neff. "It's been my favorite part, just building a personal, yet professional connection."
Like Neff, Perkosky chose to teach math because of his ninth grade geometry class. When Perkosky learned to solve and understand math problems, it provided him with a euphoric feeling. He is driven to help others understand math and experience that same excitement.
"It's an otherworldly feeling to see people you help, doing math, understanding the process and saying that it makes sense," said Perkosky. "The higher the level of [their] excitement the more energetic I would become."
Stephens fell into teaching because of the support she received throughout grade school.  "I was never the best with homework, and I struggled to stay engaged in middle and high school," said Stephens. "I was a student that was really supported by my teachers in general."
As they prepare to graduate, Neff, Perkosky and Stephens reflected on what they would do if they could repeat any part of their college experience.  The trio discussed taking on more teaching opportunities outside of their classes, finding friends to keep them accountable, being open to new experiences, and being themselves.  
Perkosky considered the educational theories he learned through his course work.  "Take into account the theories you discuss," said Perkosky. "You need to recognize what your strengths are.  Once you start thinking about your personality as a person and educator, you'll be much better off."
"Take a lot of credits early," noted Neff.  "In your first two semesters, your classes aren't that hard.  If you get ahead, you will thank yourself later because it gets harder. You don't want to be taking 20 credits over the last couple semesters."
Neff, Perkosky and Stephens found their passion for teaching through their own individual journeys. Their Penn State Story united them and brought them to McKeesport, the first of many communities and school districts in which their presence will make a difference for those they teach. There is no better way to continue the "We Are" legacy than to help future generations succeed.
High school seniors who are interested in earning a bachelor's degree in education should reach out to our admissions team at [email protected], via phone at 412-675-9010 or 24 hours online at www.greaterallegheny.psu.edu/admissions