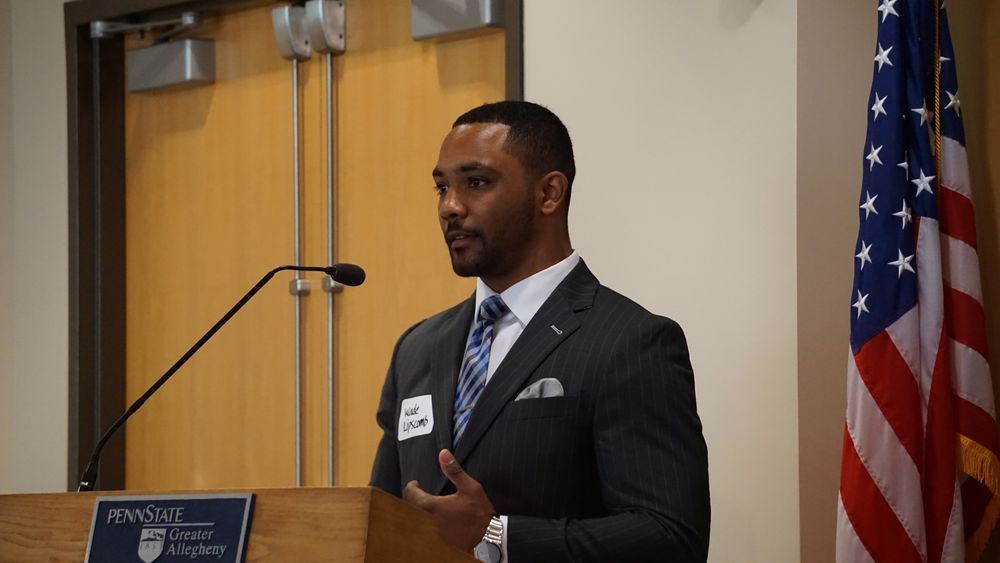 MCKEESPORT, PA. – At a time when civil discourse and courageous conversations happen less often, Penn State Greater Allegheny provides the space for individuals of all ages and races to gather, learn and plan for ways to become agents for positive change. Leading such dialog is not new to the McKeesport-based campus, as they enter the third year of their signature program The Crossing Bridges Summit.  
A highlight of this year's summit occurred on Oct. 26, when the campus hosted a Black Male Symposium titled "American Conqueror. American Victim. American Citizen: A Symposium Examining the Intellectual, Social, Material, and Psychological Status of Black Males in America." Greater Allegheny faculty members Anthony B. Mitchell and Johnathan White chaired the conference, funded in part with a grant from the Office of the Vice Provost for Educational Equity.
More than 50 scholars, artists, students, alumni and community activists gathered to engage with individuals who personally or professionally understand the complexities of the 'black experience' in America.  
One workshop, "Confronting the Trauma: Counseling and Restorative Justice Strategies for Black Boys & Men with Implications for Policy and Practice," addressed the ways in which schools could create trauma-centered communities. Panelist Jason Rivers, director of programs and services, TandemED LLC, called trauma "the accumulation of multiple negative stressors without the resources to cope."  
Penn State Greater Allegheny alumnus Marino Swanson works as a community monitor with Allegheny County Juvenile Probation. Swanson shared that many of his program's participants have dealt with multiple severe traumatic exposures, such as raising siblings and seeing friends killed at close range.  "They (program participants) take on a lot of weight for individuals who are so young, and lack nearby role models," said Swanson.
For the young black men who attend Penn State Greater Allegheny, there is no shortage of role models. Since 2009, the campus has offered a mentoring program for African American males.  Founded by Mitchell and White as the African American Male Mentoring Program (AAMMP), it was recently renamed the Stewart and Jones Scholar Leadership Program in honor of James B. Stewart, professor emeritus and the late W. Terrell Jones, both of whom served as vice provosts of educational equity at the University.  
Through formal course work, individual and group meetings, and cultural and service-based activities, the program provides students the guidance and education necessary to become highly engaged and civically minded members of their communities and career fields.  
"As we listened to our students' insights and perspectives over the years, we found the source of inspiration for this symposium," said Mitchell. "Since the inception of our mentoring program, our collected data shows that culturally responsive mentoring and relationships with positive role models consistently emerged as major factors that contributed to personal resiliency and persistence in the higher education environment."
James Pritchett, lecturer in mathematics at Greater Allegheny, serves as a program mentor and told the symposium attendees how much he enjoys getting to know the students and helping them to address problems in positive and proactive ways.   
The Crossing Bridges Summit returns to the Greater Allegheny campus on April 3 and 4, 2020. 
Penn State Greater Allegheny inspires students to be greater by offering transformative educational experiences. The campus is a catalyst for individual and social change, committed to improving the community and world. Established at its McKeesport location in 1952, the campus serves approximately 500 students, 40% of whom are from diverse populations and 45% of whom are first in their families to attend college.