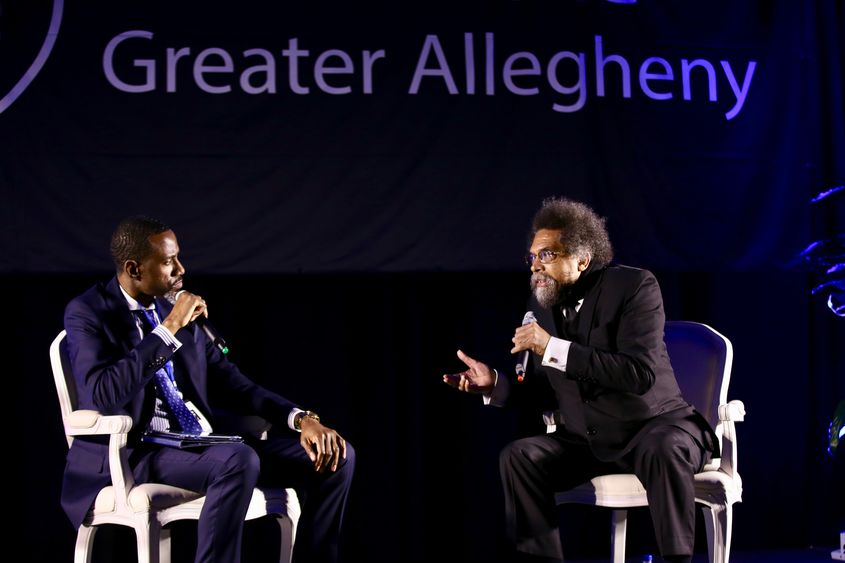 MCKEESPORT, Pa. — On Friday, Oct. 25, a crowd of more than 400 people attended Penn State Greater Allegheny's signature program, the Crossing Bridges Summit. The summit, positioned to help bridge racial divides in the Mon Valley, featured Cornel West, a public intellectual and ground-breaking author. 
Before West took the stage, Penn State Greater Allegheny Associate Teaching Professor of African and African American History Anthony B. Mitchell and his colleague, Jonathan White, lecturer in history, paid tribute to two men who were instrumental in championing equity initiatives at Penn State.   
James B. Stewart, professor emeritus, and the late W. Terrell Jones each served as vice provost of the University's Educational Equity Office and were instrumental in the 2009 launch of Greater Allegheny's African American Male Mentoring Program (AAMMP). The mentoring program, co-founded by Mitchell and White, supports young men in their adjustment to the rigors of college. To date, the program has mentored more than 200 students, some of whom attended the event. 
"To commemorate the importance of modeling academic excellence, courageous institutional leadership, and service to society, my colleague, Professor Johnathan White, and I have decided to rename the African American Male Mentoring Program," said Mitchell. "The new name will honor the legacies of two great scholar-leaders at Penn State and in Higher Education — the new name is the Stewart and Jones Scholar Leadership Program." 
"Drs. Stewart and Jones were instrumental in supporting various mentoring initiatives for diverse student populations," said Mitchell. "Their transformational leadership in Educational Equity guided Penn State's system-wide frameworks for valuing diversity, equity and inclusion.  They were visionaries and role models of educational excellence for their contemporaries and generations of students and future scholars."   
Joining Mitchell and White at the ceremony was Marcus Whitehurst, vice provost for Educational Equity, who reflected on the role Stewart and Jones played in his professional journey, helping him realize that he, too, wanted to work in an arena that advances diversity and inclusion.   
"The naming of the African American Male Mentoring Program in honor of Dr. James B. Stewart and the late Dr. W. Terrell Jones is monumental and speaks volumes to the many remarkable contributions made by these two leaders," said Whitehurst. "Both Dr. Stewart and Dr. Jones dedicated their professional careers to help improve access, opportunity, and equity for others. They are both well deserving of this recognition."   
Tom Poole, visiting scholar at Greater Allegheny and a dear friend of Jones, said, "It is very fitting that Dr. Terrell Jones was honored at the Crossing Bridges Summit last Friday evening. Dr. Jones's advocacy for low-income, first-generation college students and those who experience discrimination set him apart as a champion for justice. His vast knowledge of multicultural education and communication made him a highly sought consultant who trained thousands across the state and the nation. His 34 years of service to Penn State made a profound impact on students, their families and communities and countless colleagues. He freely shared his many gifts and his enormous generosity with young and old, friends and strangers. Due to his infectious personality and keen sense of humor, people of all kinds gravitated to Dr. Jones."  
Poole also was honored at the dedication ceremony for his efforts in service to African American Male mentoring.  
After the dedication, the audience watched as West and White had an in-depth conversation on topics about pop culture, soul, love, justice and peace. One note from West drew a positive vocal response, "Justice is what love looks like in public," West said.  
"It was a high honor to interview Dr. West," said White. "I aspired to have his mastery of history and language as a young grad student. It was rewarding to give the audience a rich intellectual discussion that was also soulful and warm. He made me feel as if I'd known him for years." 
At the conclusion of West's remarks, White and West had a question-and-answer session with questions coming directly from those in attendance. West took this opportunity to speak about the political environment we live in today, along with the ways we can strive to work together. "Brothers working together is a beautiful thing," said West.  
Chancellor and Chief Academic Officer Jacqueline Edmondson noted, "Dr. West's moderated interview with Professor White reminded us all of the importance of love, courage, and ethical decision-making as he referenced history, literature, music, and pop culture to provide an insightful analysis and critique of the current conditions of our democracy and the experiences of African Americans in the United States. His kindness and sincerity has left a lasting impression." 
The Crossing Bridges Summit returns to Greater Allegheny on April 3, 2020.