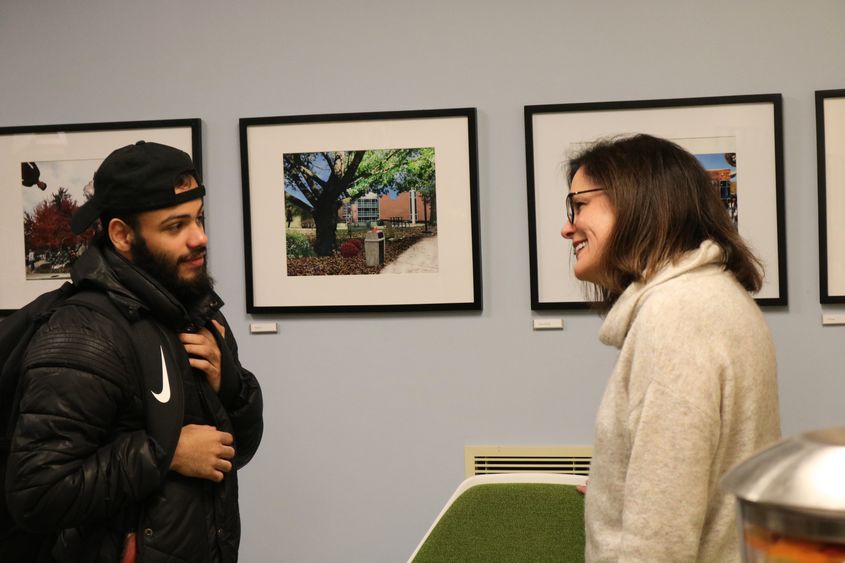 MCKEESPORT, Pa. — On Dec. 4, Penn State Greater Allegheny hosted its annual Art Gallery Open House. The gallery space, located in the lobby of the Frable Building, invites visitors to see the world through the power of a lens.
Since its opening in the spring 2017 semester, more than 167 pieces of student work have been displayed. Lori Hepner, professor of integrative arts, prepares the installation each semester, selecting works her students create in the digital art and photography courses she teaches.
Hepner shared her excitement about the gallery.
"It's one place on campus where students get to see the creativity that everybody else has; that they don't necessarily see come out in their more academic classes," said Hepner. "Having the artwork in a public space, allows faculty, staff, and other students to see and comment on the students' visual creativity."
"It's shocking to see my photos displayed," said Nico Blacutt, student at Greater Allegheny. "I didn't realize that my work would be in the Frable lobby. I just used my iPhone to capture different spaces that looked interesting and unique to me."
Students interested in sharing their photography or digital art skills should contact Lori Hepner at [email protected].