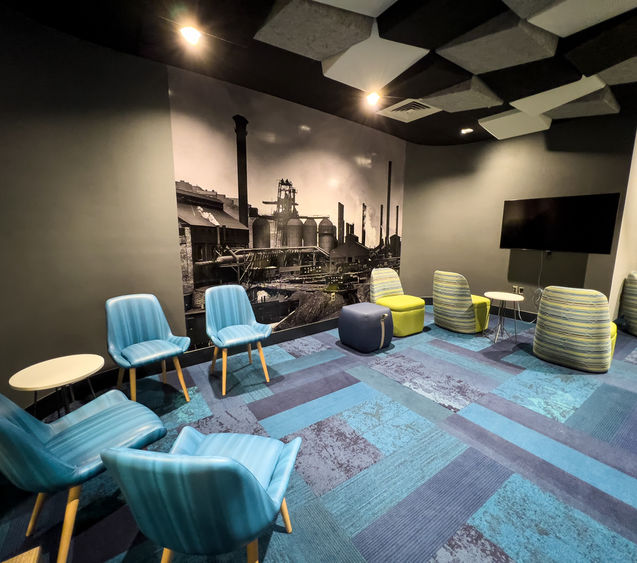 MCKEESPORT, Pa. — Some may remember the legendary Konami cheat code, Up, Up, Down, Down, Left, Right, Left, Right, B, A, Start. If not, you more than likely have tried it recently on Amazon's Alexa to unlock its easter egg of "Super Mode." Like Konami and Amazon, Penn State Greater Allegheny created its own cheat code to utilize and level up its on-campus gaming area in the lower level of the Student Community Center. 
 
On Tuesday, Jan. 11, between 12:15 and 1:30 p.m., Greater Allegheny's Student Affairs department will host a grand reopening of the reimagined space. The renovation includes an artistic blend of modern and industrial and contains five 70-inch TVs, a Sony PlayStation, Nintendo Switch, Microsoft Xbox and arcade machines. In addition to the gaming consoles, an Apple TV will augment our Digital Fluency Project. Apple TV enables students to use AirPlay with their iPads, which mirrors their displays to larger screens for group collaboration, studying sessions and movie watching. 
 
"Students will be able to bring their own systems or use one of the several gaming systems that are being built into the space," said Lorraine Craven, director of student affairs. "The goal was to design a space that had a sports bar feel and incorporated multiple gaming stations, arcade machines, and graphics on the wall." 
 
The incorporation and orientation of the room were designed and approved by the Student Facility Fee Committee, whose one member noted that the room is "game-tastic' for tournaments and individual play!" 
 
To learn more about the Gaming Room and its availability, students can connect with the student affairs department, Student Community Center Room 210.