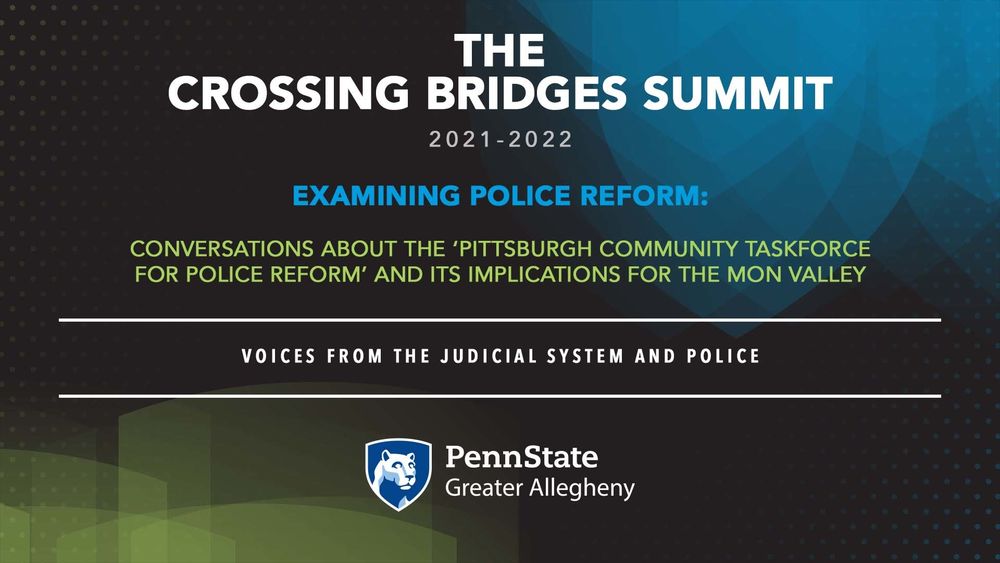 McKEESPORT, Pa. -- Penn State Greater Allegheny's virtual Crossing Bridges Summit, "Examining Police Reform: Conversations about the Pittsburgh Community Taskforce for Police Reform and Its Implications for the Mon Valley," returns at 3 p.m. Thursday, Feb. 10. WPSU will produce the event and broadcast it live at watch.psu.edu/crossingbridges.
Joining panel moderator, Sandra Trappen, assistant professor of administration of justice at Penn State Greater Allegheny, will be The Honorable Kim Berkeley Clark, president judge of the 5th Judicial District of Pennsylvania (Allegheny County); David A. Harris, Sally Ann Semenko Endowed Chair Professor of Law, University of Pittsburgh; and Iris Richardson, director of diversity, equity and inclusion for Penn State University Police and Public Safety.
"As we consider the Pittsburgh Community Taskforce Report for Police Reform and its implications for communities in the Mon Valley, we intentionally brought different perspectives to the recommendations with each panel discussion", said Jacqueline Edmondson, chancellor and chief academic officer at Penn State Greater Allegheny. "During this third panel, we will hear views from the court system, the legal system, and the police. These perspectives will help us to know how to link arms from our communities with these systems to reimagine public safety in humane and equitable ways."
Immediately following the livestream, the committee will host a Summit Talk to reflect on the panelists' points and consider actionable items the Greater Allegheny campus can take with community leaders to bring meaningful change to the region.
There is no registration required to view the panel livestream, but registration is required for the Summit Talk. To register for the Summit Talk, visit: ga.psu.edu/summittalks.
The Crossing Bridges Summit began in 2017 and is a signature program at Greater Allegheny. It is comprised of five pillars: the Speakers Series, Summit Talks, student-led Unity Talks, a Visiting Scholar program, and a Task Force on Racial Equity and Justice.
Penn State Greater Allegheny inspires students to be greater by offering a transformative educational experience. We are a catalyst for individual and social change, committed to improving the community and world around us. We offer three associate degree programs, 12 baccalaureate programs, including a bachelor of social work, the only Penn State campus to offer that major. Students can begin the first two years of nearly all of Penn State's 275+ majors on our 52-acre campus in McKeesport.