Event helps students by raising money for scholarships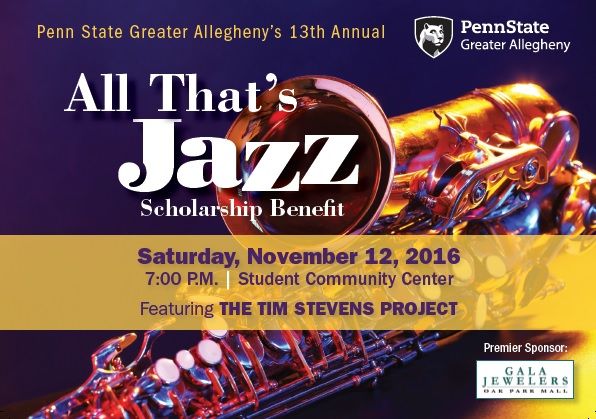 Most people who have attended the All That's Jazz scholarship benefit at Penn State Greater Allegheny will tell you that it is a great night filled with beautiful music, delicious food, fun and fabulous auction prizes. But, it is so much more than that, especially to the students who are helped with the money -- $930,000 in the past 12 years -- raised at the event.
Jesús, originally from Puerto Rico, participated in the 2 plus 2 program. He attended Penn State Greater Allegheny (GA) for two years, and went on to finish his last two years and graduate from University Park in 2012.  An accounting major who minored in business law, he also enjoyed playing on the men's basketball team at GA. 
"The scholarship money I received was important, even necessary, for me to complete college," said Jesús. "My family was living back in Puerto Rico, so I had to work my way through college on my own. I was so thankful for the scholarship I received from All That's Jazz."
Because of the help that the campus gave him, Jesús enjoys giving back to Penn State Greater Allegheny and to the general community. He has spoken at events to help promote the campus to prospective students, and at All That's Jazz.
Jesús is a senior accountant at Baker Tilly's Assurance department.  His industry emphasis is on nonprofits, higher education, Uniform Guidelines compliance, privately held companies and senior living clients. He is part of Baker Tilly's Supporting Opportunity, Advancement, and Recognition for all (SOAR) subcommittee with the vision of supporting the evolution of a diverse, inclusive workforce with opportunity for all team members to maximize their potential, create value, and deliver to clients as a nationally recognized firm. In addition, Jesús is the treasurer of the Pittsburgh Metropolitan Area Hispanic Chamber of Commerce and part of the "Next Generation Council" formed by Vibrant Pittsburgh and basketball coach for a youth team in North Huntingdon, Pa. Lastly, he was an active volunteer partner in the public-private "Hola Pittsburgh!" and part of the Welcoming Pittsburgh Advisory Council formed by City of Pittsburgh Mayor Bill Peduto.
Jesús says that, while at Greater Allegheny, he learned how to work hard and develop into the professional that he wanted to become.  He said, "Studying at Penn State helped me to shape who I am. I learned from tremendous teachers who cared about our future. Not only the teachers but the entire Penn State family wanted to make sure that you were on the right path. In the end, you were part of the Penn State family, which has a great legacy. No matter whom you are or where you came from, Penn State wanted to see you succeed." 
The 13th annual All That's Jazz scholarship benefit will be held Saturday, Nov. 12 in the Student Community Center on campus. 
The Tim Stevens Project, a popular Pittsburgh jazz band, is sure to keep the house rockin'. In addition to Tim Stevens on vocals, the musicians are pianist James Johnson, guitarist Eric Johnson, guitarist and bassist Dan Wasson, saxophonist Kenny Blake, and drummer Vince Taglieri.  The group will perform a mix of classic jazz, pop and a few light R&B pieces, including their renditions of the music of Tony Bennett, Frank Sinatra, George Benson, Billie Holiday, Ray Charles and many others. 
Some of the incredible auction items up for grabs will be trips to Cancun and Riviera Maya, beautiful jewelry and artwork, sports memorabilia, and so much more.
"Scholarship money raised at All That's Jazz is so important in enabling our students to complete their education, like it helped Jesús. The majority of students at Penn State Greater Allegheny require some type of financial aid. We hope that the community will come out and help us continue our tradition of providing support for our students," said Laura King, campus director of development.
The community has already begun to support this year's All That's Jazz.  Gala Jewelers has pledged $7,500 as a Premier Sponsor of the event. "I am a proud father of a Penn State graduate. Penn State Greater Allegheny is a valuable resource for the community and we are happy to support it," Chuck Gala, owner of Gala Jewelers, said.
The event will begin at 7 p.m. on Saturday, Nov. 12, at the Penn State Greater Allegheny Student Community Center, 4000 University Drive, McKeesport. The public is invited to join in the festivities to help support student scholarships. Tickets are $125 each or 10 for $1,000.
Information on tickets and sponsorship opportunities can be obtained by calling 412-675-9048.