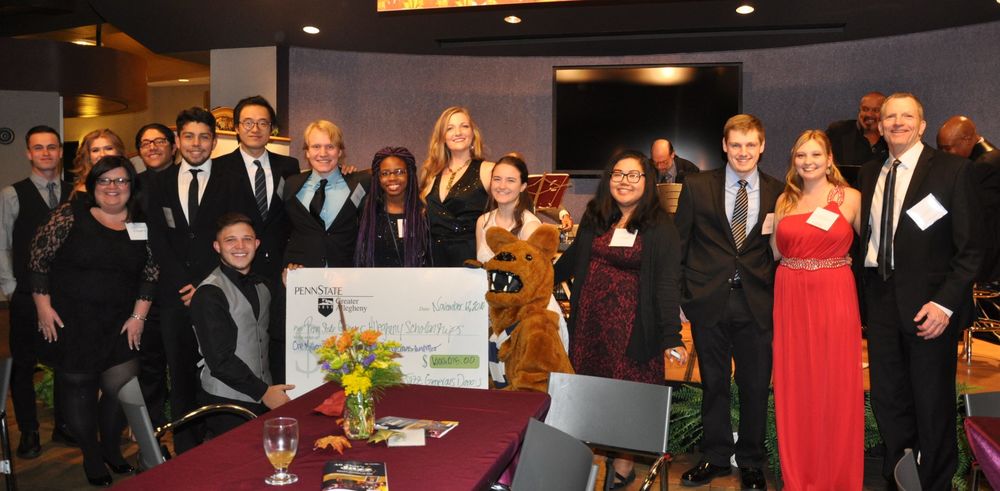 MCKEESPORT, Pa. — On a cold, quiet Saturday morning in McKeesport, the Penn State Greater Allegheny campus was filled with the hustle and bustle of a group of folks coming together to set up for the 13th annual "All That's Jazz" Scholarship Benefit. It takes a village to put on such a grand affair, and the entire Penn State Greater Allegheny campus community was that village.
Months in advance of the event, the Development Department obtained sponsors and auction items, made plans with the entertainment, and planned the evening's logistics. 
On the big day, the Physical Plant team was up early working to prepare the stage, ensure the safety of all of the guests, and set up the entire building. Amazing smells came from the kitchen as the Housing and Food Services department cooked and plated the amazing food samplings. The entire Student Community Center was decorated to look like a fall fantasy full of beautiful pumpkins, leaves and jewel-toned fall colors. Volunteers displayed the numerous auction items up for grabs, including a number of baskets donated by staff and faculty from various campus departments. 
The quiet morning was a sharp contrast to the evening's lively festivities. When the doors opened at 7 p.m. on Nov. 12, live jazz music was jamming throughout the Student Community Center as guests enjoyed the delectable treats and bid on luxurious auction prizes.
Emcee Bill Flanagan, chief corporate relations officer for the Allegheny Conference and its affiliated organizations, and host of WPXI-TV's "Our Region's Business" welcomed the crowd and introduced Chancellor and Chief Academic Officer Andrew Egan.
"I want to thank everyone who helped to make this event such a success. Scholarships make a tremendous difference to so many of our students. They can focus on their studies without having the burden of worrying about finances," said Egan. 
Always a special part of the evening, the Reverse Auction raised $10,325 in just a few minutes for student textbooks and supplies. A few generous guests bid up to $2,000 to aid the students. Jake, from Bethel Park, is one of the students who will receive scholarship money from "All That's Jazz."
"Without scholarships to pay for textbooks and tuition, I wouldn't be able to go to college or get my degree. 'Thank you' doesn't even begin to encompass my gratitude," he said.
The Tim Stevens Project really captivated the audience and rocked the house with their mix of jazz and popular tunes. Band members interacted with the crowd, coming off the stage and mingling as they played. A few audience members couldn't resist dancing to some of the more up-tempo beats.
Guests included donors, campus advisory board members, jazz music lovers, and friends of the campus. A large group of alumni came back to support the current students and catch up with faculty and staff. 
More than $1 million has been raised over the past 13 years. Of course, the event could never be so successful without the generosity of the sponsors, named below.
Director of Campus Development Laura King expressed her gratitude to all of the sponsors and guests.
"It was wonderful to see so many people celebrating the importance of scholarship and philanthropy," she said. "It is a true testament to the commitment of those who support this event for it to have brought in such a significant amount of money over the years."
13th annual "All That's Jazz" sponsors
Investors
Gala Jewelers
Jim and Barb Ingram
Patrons
Galen Grimes
Mark R. Gruskin
Ruth A. Hunt
Jendoco Corporation
Jim and Megan Minarik
John and Nancy Traina
UPMC McKeesport Hospital Foundation
Jay and Kim Weitzel
Ambassadors
Desmone Architects
Dennis and Beth Meteny
Penn State Greater Allegheny Alumni Society
Specialty Steel Products Inc.
Supporters
Vincent J. Brisini
Ed and Dorothy Datemasch
Karen Kutzer
Ross Nese
Gary and Sharon Thomas
Contributors
Bob and Ruth Burig
Ron and Chris Grassel Jr.
Donald and Monica Lovre
Dave Pasternak
Friends
Arthur L. and the Honorable Cynthia A. Baldwin
Dolores Smith Barber
Linda Curinga
Lori Hepner
Isadore and Yetta Joshowitz Charitable Foundation
Elizabeth Mazur
Dr. Robert F. Nicely, Jr. and Mrs. Donna Comnale Nicely
Stacey Rogers