More than $58K raised for student emergency fund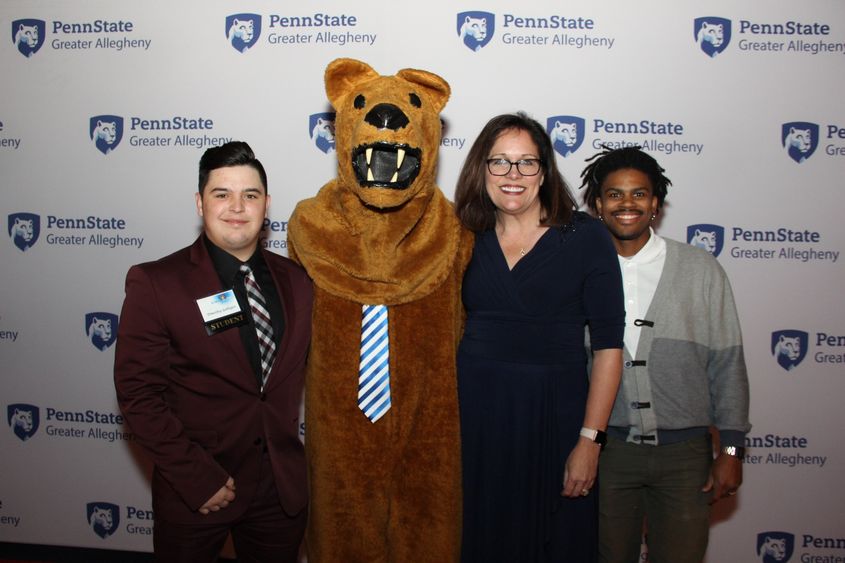 MCKEESPORT, Pa. — On the first Saturday in November, the stars shined a bit brighter at Penn State Greater Allegheny's All That's Jazz Masquerade Gala. The fundraiser, in its 16th year, was held in a beautifully transformed Wunderley Gymnasium on the McKeesport campus. The event raised over $58,000 in support of the campus's student emergency fund. 
"The fund exists to help students with financial assistance in a serious time of need," expressed George Barron, director of development at Greater Allegheny. "This fund is intended to be a supplemental resource when students are unable to meet immediate and essential expenses because of a temporary hardship such as accidents, illness, death of a family member, fire damage, temporary housing, or medical prescriptions."
Jacqueline Edmondson, chancellor and chief academic officer, shared that "one of the more difficult aspects of my job is when I learn of a student facing an unexpected situation that may cause them to leave school." 
"I have had students come to my office to share some of the many challenges they face — including having a car break down, getting flat tires from potholes on the road, health concerns, or extended family issues," said Edmondson. "Some of our students experience homelessness and food insecurity."
During the evening, Barron lead a "Fund our Mission" reverse auction with the help of the Nittany Lion. As the Lion demonstrated how to raise and lower the bid paddles, and guests practiced, Barron challenged the audience to contribute $12,500 for the student emergency fund. The crowd did not disappoint, surpassing the goal by $500.  
Jesus Torres, who attended Penn State Greater Allegheny as part of the 2+2 program and currently serves on its Advisory Board, supported the reverse auction.  
After graduating from the University, Torres became a frequent visitor, volunteer and friend of the campus. "As an alumnus, I have always felt the need to give back to the current students since I received support when I was a student, as well," said Torres. "Without the support from others, things could have been different for me. I want to ensure that our younger generation has the proper tools, resources and support in order to succeed."
Over 160 guests enjoyed the music of national jazz artist Sean Jones and local dance band No Bad JuJu. Penn State Greater Allegheny chefs prepared a delicious menu, including an antipasto station, a sushi bar, and a beef, chicken and portabella salad with chimichurri sauce. A silent auction featured items including a variety of Pittsburgh sports packages, a James Franklin-signed football, and artwork.  
Penn State Greater Allegheny serves approximately 500 students, 40% of whom are from diverse populations and 45% of whom are first in their families to attend college. Students can complete one of four associate degree programs, one of 12 baccalaureate degree programs, or begin almost all of Penn State's more than 275 majors as part of the 2+2 program.  
To learn more about the Student Emergency Fund, and supporting Penn State Greater Allegheny students, contact George Barron by phone at 412-675-9180 or by email at [email protected].