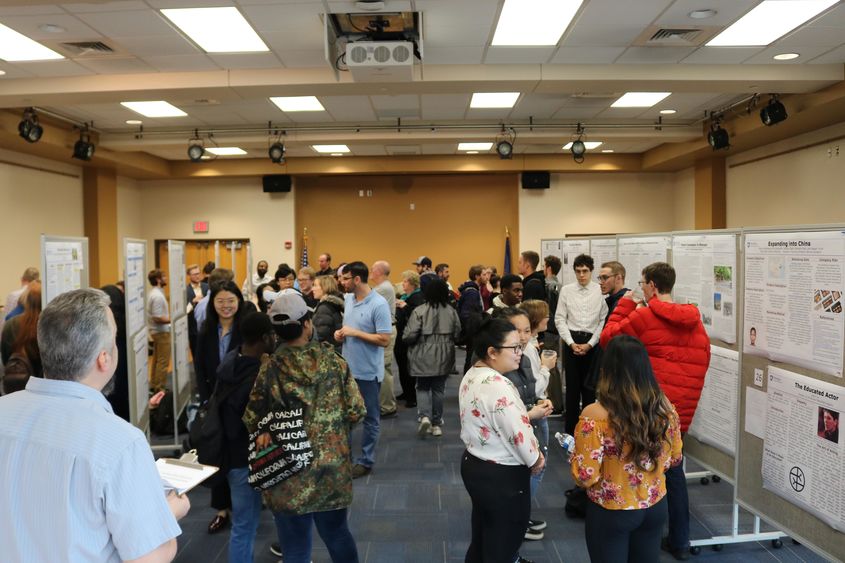 MCKEESPORT, Pa. — On Thursday, Nov. 21, Penn State Greater Allegheny held its fall Honors Research and Creativity Conference in the Ostermayer Room of the Student Community Center. More than 50 students shared their research and creative works in science, engineering, business and sociology disciplines. Faculty, staff and students judged the submissions for the best research, presentation and knowledge of a subject.
"I was so impressed with the range of research the Greater Allegheny students engage," said Jacqueline Edmondson, chancellor and chief academic officer at Greater Allegheny. "I was able to listen to students discuss topics that ranged from their studies of Chinese literature and representations of homosexuality in ancient China to the impact of copper on human health and the development of new platforms for gaming. The social sciences, humanities and STEM fields were all evident as I walked through the conference. It is abundantly clear that Greater Allegheny faculty devote significant time and expertise to mentoring students in their research pursuits."
"Penn State Greater Allegheny is unique in that we're one of only two campuses that hosts a student research conference every semester," said Andrew Marshall, head librarian at Greater Allegheny. "Every semester, I'm blown away by the quantity and quality of the work our students produce."
"I've invited librarians from other campuses to help me judge the entries for our Undergraduate Research Award each of the last four semesters," continued Marshall. "My colleagues consistently praise the level of scholarship that's evident in the posters, and the enthusiasm with which our students share the knowledge they've gained."
Student Holly George conducted her research on mental health in today's workplace and how it connects with Arthur Miller's "Death of a Salesman."
"I chose the topic of mental health and the workplace because I was interested to see if there was any direct correlation between the two," said George. "There were a few key takeaways from my research. Adverse psychosocial work conditions are risk factors for poor health. Also, an individual's stressful workplace can lead to depression and the development of suicidal thoughts."
George continued, "I was able to connect all of my research to how Arthur Miller's character Willy Loman shows his mental decline throughout the play 'Death of a Salesman.'"
Jim Jaap, teaching professor of English at Greater Allegheny and George's instructor noted, "I thought Holly's project presents an interesting take on both how mental illness plays a role in Arthur Miller's play 'Death of a Salesman,' but also how that mental illness is connected to the high pressure of his job as a salesperson. It [George's project] also could branch into further topics, including how perceptions of mental illness have changed and how today's employers often provide a variety of services for employees, including those related to stress and mental illness."
Another student, Katie Lin, presented for her first time at the conference on the relationship between acting and education.
"Through my research, not only did I learn more about education, I also gained insight as an actress," said Lin. "Learning about what actors must cognitively go through as part of their process of understanding their characters helped me be more aware of what I can do to become a better actress."
Lin continued, "What I enjoyed about the conference was being able to share my findings and passions with others. It was rewarding to see people interested in my findings, and cool to see what some of my peers researched because everyone's poster was different."
Students who are passionate and interested in the opportunities to gain researching skills across academic disciplines may contact Ellie Higgins at [email protected] or by phone at 412 -675-9461.
Award-winning researchers
Library Undergraduate Research Award Winners
Grand Prize
Curran McCune – "Imperial Chinese Views on LGBTQ+ Issues, As Illustrated By Poetry"
Faculty adviser: Mildred Mickle
Honorable Mention
Yury Bogatyrev – "P.E.S.T. Analysis: Apple Inc. in China"
Faculty adviser: Young Han Bae
Haley Snyder – "Inequalities in Earnings: China"
Faculty adviser: Veronica Montecinos
Carly Duncan – "Effects of Glyphosate on Overall Brain Development"
Faculty adviser: John Peles and Kristal Tucker
Holly George – for poster "Mental Health, the Workplace, and 'Death of a Salesman'"
Faculty adviser: James Jaap
Teaching International Award Winners
Grand Prize
Alexis Whitehead – "The 'Missing Girls' of China"
Faculty adviser: Veronica Montecinos
Honorable Mention
Marc Bailey, Katie Chuahong, Julian Giannetti, Todd Hone, and Carolina Mejia-Moya – "Shanghai's French Concession"
Faculty adviser: Amy Guthrie
Creativity Award Winners
Grand Prize
Madason Porter-Gibson – "Death by Laughing"
Faculty adviser: Lori Hepner
Honorable Mention
Katie Lin – "The Educated Actor"
Faculty adviser: Ellie Higgins
STEM Category Award Winners
Grand Prize
Xiaoyang Guo and Tyler Patterson – "Calculation and Application with 3D Matrix"
Faculty adviser: Kuei-Nuan Lin
Honorable Mention
Courtney VanHorn – "Copper Effects on Brain Development"
Faculty adviser: John Peles and Kristal Tucker
Sustainability Category Award Winners
Grand Prize
Tyler Barry and Lukas Seibel – "Water Sensing on a Shoestring"
Faculty adviser: Alandra Kahl
Honorable Mention
Wyatt Thomas – "Polyethylene - From Stars to Litter"
Faculty adviser: Megan Nagel
Honors Award Winners
Grand Prize
Carly Duncan – "Effects of Glyphosate on Overall Brain Development"
Faculty adviser: John Peles and Kristal Tucker
Honorable Mention
Xinyu Zhang – "Different Narrators, Different Stories: What are We Watching When We Watch 'Africa' in films? What are We Reading When We Read Hong Kong Protests?"
Faculty adviser: Ellie Higgins
Audience Appreciation Award Winners
Grand Prize
Emily Spisak, John Mesco, and Colby Hall – "International Business Plan"
Faculty adviser: Bernie Cerasaro
Honorable Mention
Khushi Kantawala, Kori DeVaughn, Jessica Gatti, Maryam Shah, and Megan Trunk – "Expanding into China"
Faculty adviser: Bernie Cerasaro
Nicolaus Aboud – "Making Every Photon Count"
Faculty adviser: Megan Nagel