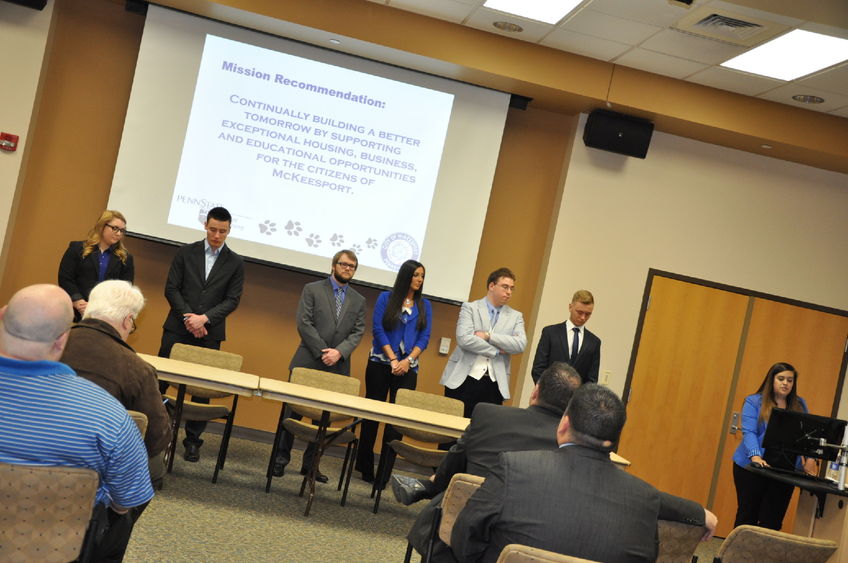 Penn State Greater Allegheny welcomed City of McKeesport Mayor Michael Cherepko to campus today as the students of BA 422W, Strategic Business Planning, presented a strategic analysis for the city. The class spent the spring semester performing an in-depth study of the business planning strategies of McKeesport. The presentation was followed by a question-and-answer session.
Strategic Business Planning is the capstone course of the bachelor of science in business, and is taught by Michelle Hough, associate professor of business.
"Each of these students contributed to the project in their own, unique way, with their own talents. I am incredibly honored to have worked with this group," said Hough. "It is so important for them to work hands-on with an actual organization, and we are thankful to the mayor and city of McKeesport for being so cooperative. I think, in turn, they got some great recommendations and a wonderful strategic plan from this group of students."
The future-focused final report includes recommendations on increasing jobs, retaining long-term home ownership, taking advantage of the waterfront, optimizing green space throughout the city, and strategizing for the future development of the neighborhood. The students created a vision statement and a mission statement. One of the students created a short video that the mayor is interested in deploying to promote the city.
After the presentation, Cherepko complimented the students on a job well done. "Many of the things you suggest are things we are actually working on. I am so impressed with your study, from the mission statement to the future plans, and with your permission, I am sure we will implement a number of the ideas you presented."