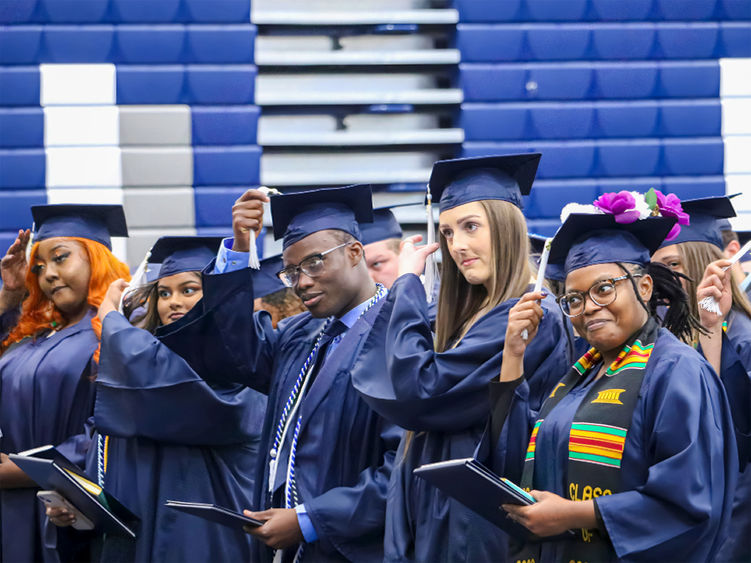 MCKEESPORT, Pa. — Families and friends gathered at Penn State Greater Allegheny's Wunderley Gymnasium on May 6 to celebrate students who earned their Penn State degrees in December 2022 and May 2023. Interim Chancellor and Chief Academic Officer Megan Nagel presided over the commencement ceremony, which was attended by nearly 400 people.
Adrian Eduardo Hiciano-Kingsley, who earned a bachelor's degree in information technology, served as the student speaker. Hiciano-Kingsley is from Puerto Rico and transferred to Greater Allegheny in 2019. He is currently working as an endpoint engineer for a Fortune 500 company.
Hiciano-Kingsley challenged his fellow graduates not to forget where they came from and the role families, friends, teachers and mentors played in their journey.
"The student support staff and the cafeteria staff and everyone else that works on this campus have made this campus feel like home to us," said Hiciano-Kingsley. "They have supported us, given kind words of support, and made us feel like family. They have invested in us and believed in us when we did not believe in ourselves."   
David Newell, an American television actor best known for his role as Mr. McFeely in "Mister Rogers' Neighborhood" served as the commencement speaker. Newell shared the joy he experienced through his career and referenced the notion that you never work if you love what you do.  In closing his remarks, Newell said, "My wish and message for you is that you not only love your career … but you also love your life."
The Greater Allegheny graduates include: 
Bachelor of Arts in Administration of Justice – Myairah Alaysia Rashell Carter
Bachelor of Arts in Communications – Yousuf Lachhab Ibrahim
Bachelor of Arts in Psychology – Payton Bartek, Gustavo Delgado, Raymond Santos Arroyo, Justice Smith-McDougal, Kayla Steele
Bachelor of Science in Administration of Justice – Joel David Fordyce, Chyenne Renae Porter, Taylor Sonita
Bachelor of Science in Biobehavioral Health – Alix Aleah Ellis, Armani M. Isaac, Sarah Kish, Onika Marae Miles, Neila Raveen, Teofil Wojnaroski
Bachelor of Science in Business – Atiya Daniels, Jordan E. Francis, Kennedy Noelle Henderson, Collin McPherson, Samuel Parsons, Dylan J. Pulkownik, Marquest James Rainey Jr., Ma'Nyah Faith Wright
Bachelor of Science in Criminal Justice – Jonathan Preece
Bachelor of Science in Cybersecurity Analytics and Operations – Raymond Joseph Kotewicz III
Bachelor of Science in Information Sciences and Technology – Deyten Lawrence Hall, Sebastien Pamphile
Bachelor of Science in Information Technology – Adrian Eduardo Hiciano-Kingsley
Bachelor of Science in Psychology – Margie Ree Harrison, Brianna Nicole Moore
"They have invested in us and believed in us when we did not believe in ourselves."

—Adrian Eduardo Hiciano-Kingsley , Penn State Greater Allegheny commencement student speaker
Also participating in Saturday's ceremony were two students who started their Penn State journey on the Greater Allegheny campus. Elijah Akinade finished his degree at University Park, where he was dually enrolled in the College of Health and Human Development and the College of Medicine. Having earned his bachelor of science in biobehavioral Health, Akinade will now complete his master of public health in the coming year.
Bradley Porter completed his degree in project and supply chain management at Penn State Behrend.   
The campus also remembered and celebrated the life of Javanna Brodt, conferring her bachelor of science degree in business posthumously. Javanna's son, Jazaar, and her mother, Brehan, accepted her diploma on stage.  
Assistant Chief Academic Officer and Teaching Professor of English James Jaap presented the Penn State Greater Allegheny Academic Excellence Awards to the graduating seniors who achieved a cumulative grade-point average of 3.6 or higher and completed at least 36 credits at the campus.
Receiving the award were Elijah Akinade, Sarah Kish, Raymond Kotewicz III, Samuel Parsons, Neila Raveen and Teofil Wojnaroski.
To watch a replay of the Spring 2023 commencement ceremony, visit Greater Allegheny's live events page.