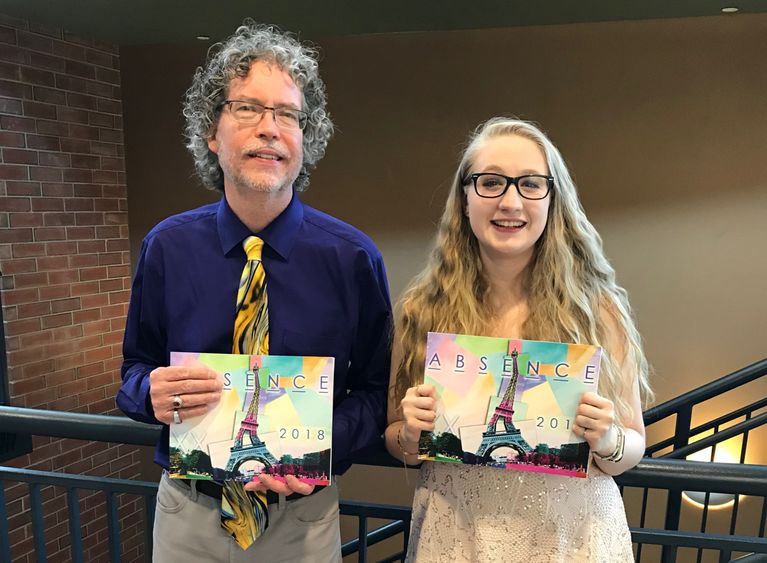 MCKEESPORT, Pa. — An event at Penn State Greater Allegheny was held to celebrate the literary and visual works that were published in the 20th edition of ABSENCE. ABSENCE is an artistic magazine that exposes visual and literary art submissions by students, faculty, and people all around Pittsburgh.
This year's event started off with a performance by Brother Tony Mitchell's Ibeji Drum Circle. Mitchell is associate teaching professor of African and African-American studies. Mitchell and his group created an ambiance that was carried throughout the whole ceremony.
After the music was finished, Clifford Manlove, senior faculty adviser and publisher, was front and center to welcome the crowd. Manlove said how happy he was with this issue of the magazine, and encouraged people to submit to next year's issue and join the staff.
Loren Baseler, editor-in-chief, expressed her excitement for this year's issue and made sure everyone involved got their spotlight. She credits ABSENCE as a good starting point for the career she will pursue.
"ABSENCE has given me an insight to publishing that I would not have been able to experience elsewhere," said Baseler. "I am pursuing a career in academic publishing, so working with ABSENCE has helped to prepare me for the intensity and quick pace of the publishing world. I'll carry my experience with me after I graduate as I start my career."
Many works were published in this year's edition of ABSENCE, but a select few were chosen to receive the Chancellor's Prize award for Best Literary and Visual Art, which includes a scholarship award for students.
"It has been such an incredible experience to have had the opportunity to contribute my work to ABSENCE. Art has always been something I have held close to me, ever since I was a child," said Kaitlyn Innerest, second-place prize winner. "The world can become so chaotic, yet there is beauty waiting to be captured all around us. I want to leave an impression on people when they look at my photos."
The night was filled with artistic energy created by the Penn State Greater Allegheny community, who presented their artwork in front of the audience.
ABSENCE continues to thrive and is looking to expand its community. For more information about submitting work or becoming part of the staff contact Clifford Manlove at [email protected].