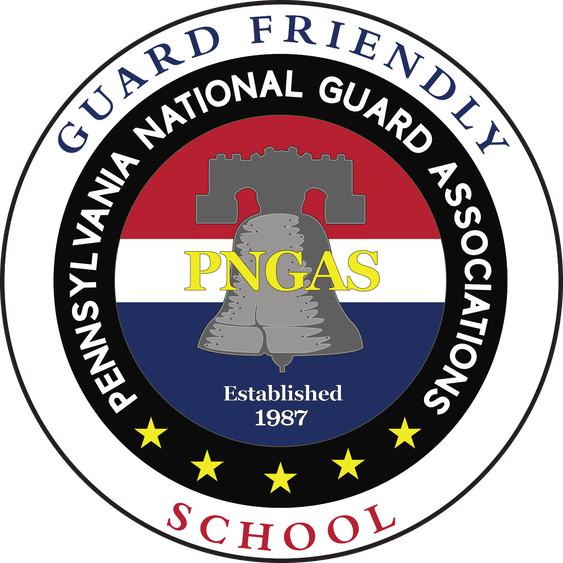 MCKEESPORT, Pa. – Penn State Greater Allegheny was named a Pennsylvania National Guard Association (PNGAS) 'Guard Friendly' school during the organization's 2019 PNGAS Awards Celebration on Nov. 8 in Lancaster, Pennsylvania. The 52-acre campus was one of 30 schools to receive the award, and the only four-year institution in Allegheny County named.
"The guard friendly designation allows guard members to find institutions that have been vetted by the standards set forth by the PNGAS to ensure that we are meeting the needs of this unique population," said Dave Davis, admissions counselor at Greater Allegheny and colonel in the U.S. Army Reserves. "Our campus is committed to the service member's success by having services in place like priority registration, tutoring, career services and an active Veterans Club. Having a degree that can be obtained locally helps these citizen soldiers advance in both their civilian and military careers."
The PNGAS 'Guard Friendly' School distinction was developed by the PNGAS Education Advisory Council, which recognized the inaugural class of institutions by specific criteria including providing credit for prior learning for military training in accordance with American Council on Education (ACE), offering essential academic services, and accepting tuition assistance from the Pennsylvania Education Assistance Program ("EAP"), which helps PNG members with tuition.
"Guardsmen have unique responsibilities that active-duty troops and reservists do not have, and this creates different challenges for them when pursuing a degree," stated Brigadier General (retired) George Schwartz, chairman of the PNGAS Education Action Council. "These 30 schools have made a deliberate effort to be flexible, accommodating and supportive of guardsmen-students and deserving of recognition. The PNGAS Guard Friendly School designation is a win-win!"  
The McKeesport-campus has a long tradition of training veterans in Allegheny County. In 1948, the at-the-time Pennsylvania State College offered occupational and self-enrichment courses for returning veterans from World War II at the McKeesport Center located in Dravosburg.
"Penn State Greater Allegheny has a long-standing commitment to serving students who are veterans or active-duty military, and this distinction as a PNGAS 'Guard Friendly' school is further evidence of our commitment," said Jacqueline Edmondson, chancellor and chief academic officer at Greater Allegheny. "We are well-positioned to work individually with students who are guard members and to meet their unique education needs, and I am proud of the commitment our faculty and staff demonstrate to students who are members of the guard as well as other service members." 
To learn more about Penn State Greater Allegheny's resources for military veterans visit greaterallegheny.psu.edu/veterans or contact Dave Davis at [email protected] or 412-675-9010.