Pittsburgh, the City of Champions. Penn State Greater Allegheny, the Campus of Champions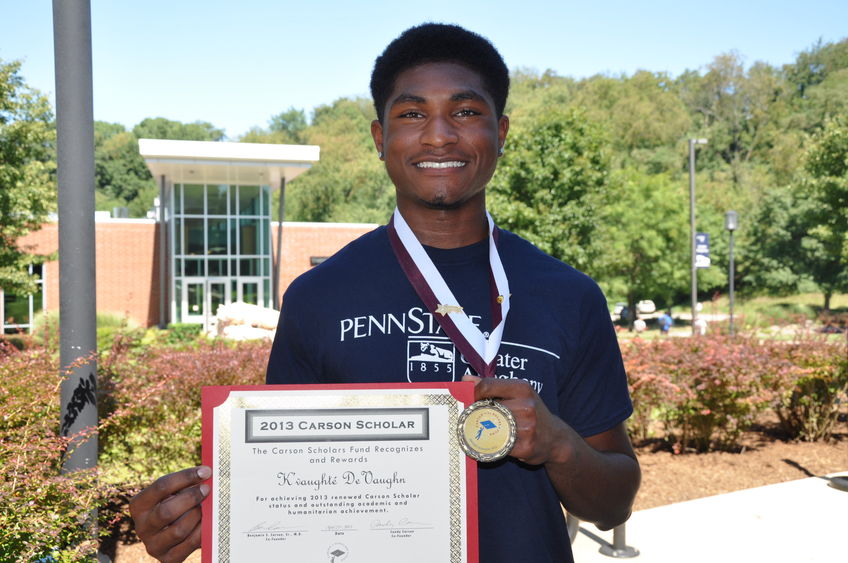 As the Penn State campus closest to the vibrant city of Pittsburgh, we too pride ourselves on our champions….our students!  Visit Penn State Greater Allegheny to learn more about the University and how you can learn alongside our champions, including our second student in the Campus Champion series, K'Vaught'e DeVaughn, and alumnus Wade Lipscomb. (Read about our first champion, Raeann Sleith, here.)
Success at a young age
When he was in just eighth grade, K'Vaught'e DeVaughn's math teacher approached him and said she wanted to nominate him for a Ben Carson Scholarship.
According to carsonscholars.org, the Carson Scholars Fund awards $1,000 college scholarships to students in grades four to 11 who excel academically and are dedicated to serving their communities. Carson Scholarship recipients receive the honor of being named "Carson Scholars" and are awarded an Olympic-sized medal and a trophy for their school to celebrate their accomplishments. Previous winners of Carson Scholarships are eligible to reapply for Carson Scholar recognition annually.  K'Vaught'e has received the award twice.  The first time was when he was in eighth grade at Phillip Murray ALA Elementary in the Pittsburgh Public School District, which is now closed. The next year, he received the award as a returning scholar, this time while attending Brashear High School, also in Pittsburgh.
Working hard leads to achievement
K'Vaught'e
 

explained

 

that to become a Carson scholar you are required to have a grade point average (GPA) of 3.75 or higher, the ability to help others, and a desire to achieve academic excellence. You are also required to do humanitarian activities. "I was chosen for this award because I attended a Pittsburgh Public school, had a GPA of 3.8, a desire to help others, and a work ethic that forced me to work to my full potential and to lead by a positive example," he said.

K'Vaught'e is majoring in engineering at Penn State Greater Allegheny, and plans to become an architectural engineer.  K'Vaught'e has helped with cooking at the jubilee kitchen with his dad. He also helps his neighbors with mowing lawns, shoveling snow, and raking leaves. 

"It means a lot to me to be a Carson Scholar because it helped build my confidence," said K'Vaught'e. "Before I was a Carson Scholar, I would constantly second guess myself and not speak up. I also think that it's important to me because I can help share my story with others to encourage them to do the same."
In good company
Alumnus Wade Lipscomb, who began his college career at Penn State Greater Allegheny and graduated from the University Park campus in 2014 with a bachelor of science degree in petroleum and natural gas engineering, was also a Carson Scholar.  Wade took advantage of the 2+2 program in which students begin at one Penn State campus, then transfer after two years to another campus.  He shares many common traits with K'Vaught'e.  They both were great scholars, both gave back to their communities, and both believe that they should serve their community and mentor others. 
An engineering major and a boxer, Wade started the campus' first boxing program.  He now works for Range Resources as a production engineer.  He is also a real estate agent for JKG Real Estate Services and a barber at Wade's barbershop in Pittsburgh. He is vice president of the Pittsburgh Boxing Club, a non-profit youth development program. 
Why Greater Allegheny?
Students like K'Vaughte and Wade have numerous opportunities.  So why did they choose Penn State Greater Allegheny?  When he came to campus, K'Vaught'e immediately knew it was where he wanted to be.  He said, "When I came for a campus tour, I shadowed a Lion Ambassador and quickly realized it was a good fit for me, especially being so close to Pittsburgh."
Wade agreed. "I chose Greater Allegheny because it was small, close to home, and less expensive."  Greater Allegheny is becoming increasingly diverse, a trait the Wade wanted in a college.  Wade said that it was this diversity that taught him to believe "people are not really that different. I learned that I can relate to people that are from other parts of the U.S. and from different cultures."
Wade says that the commitment to diversity at Penn State Greater Allegheny helped him on his recent trip to Cuba, where he met with the Cuban Minister of Sports, as part of a trip sponsored by the Pittsburgh Donnybrook project to promote and grow relations between the U.S. and Cuba.  Wade was team captain for the match that took place in Cuba.  The team practiced at Cuba's national school of boxing with their Junior Olympic team, and traveled with Ray "Boom Boom" Mancini and Steve "USS" Cunningham. Then the Cuban team came to Pittsburgh a month later to fight on the Roberto Clemente Bridge in Pittsburgh.
Scholarships can help more students achieve success
In addition to the Carson scholarship, there are countless more for which students can apply.
"At Penn State Greater Allegheny, financial aid is vital to the students' ability to attend college. Scholarships often play an important role in that aid, enabling students to remain in college, who otherwise might not be able to afford it," said Director of Enrollment Management Victoria Garwood. "Students should look for every scholarship opportunity they can find. Some of them are based on student
 

performance,

 

and others may be need-based, specific to a student's community, or other factors."
Advice from a champion
Like the great Sugar Ray Robinson once said, and Wade agrees, "To be a champ you have to believe in yourself when no one else will." And with this belief in himself and the support of the connections he's made, there is no doubt that Wade and K'Vaught'e will continue to achieve great things as Campus Champions, past and present.
For information on scholarships and how to apply for them, students should contact Financial Aid Coordinator Robert Heyl, and follow Penn State Greater Allegheny's Scholarship Facebook page.